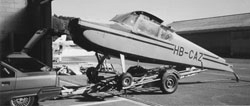 If you are comparing Trust companies, you may wish to compare the following points:
We don't charge any fee for dissolving your Trust, if you ask us to.
If you ask us to dissolve your Trust Agreement after the first year, we refund your remaining Trust fee to you*.
We don't charge any fee for the 7-yearly re-registration of your aircraft.
We don't charge any fee for obtaining a duplicate Certificate of Registration or FCC Radio Station Authorisation, if you lose yours and need a replacement.
We NEVER de-register your aircraft, unless you specifically ask us to in writing.  Even if you default on your annual trust fee, the worst we will do is dissolve the Trust and notify the FAA that ownership of the aircraft has formally passed back to you.
We offer discounts if you place multiple aircraft in Trust with us (in separate Trust Agreements).
Above Board.  Always.  We take our security and 'Know Your Customer' responsibilities very seriously, so we carry out comprehensive 'due diligence' checks via SmartSearch, to verify identities and ensure that all of our clients are legitimate and low risk in terms of money laundering, sanctions lists and the like.  So, if you choose us as your Trust company, you can be reassured that you're in good company.
*Minus a small administration fee