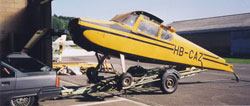 Kåre-Jan Johansen, Aircraft owner
" It is great to see such professional service, and that you were hanging on and not giving up, to make this positive outcome. You never complained, just asked if there was something more we can help with! "
Keith Baldwin, Aircraft owner
" You have all been superbly efficient, knowledgeable and above all so very helpful in all my dealings with you, and I won't hesitate to recommend you to anyone who needs a company to act as trustees for an N Reg aircraft. I am so grateful for your help and assistance over the years and I wish you all well - and should you need a reference to a potential client, then I would be happy to provide one. Once again thank you so much for your excellent service - it's MOST appreciated."
Mike Miller-Smith MBE, Chief Executive, Aerobility
" Aerobility was first introduced to Southern Aircraft Consultancy in 2010 when we received a charitable grant to purchase and operate a Cherokee 6 adapted for introducing more seriously disabled people to flight and with the capability to transport the hoist which lists disabled people from their wheelchair into the pilot seat. Immediately we were struck with the efficiency, the knowledge and great communications provided by Faith and the team. The organisation also kindly waived their fees in support of the charity. Roll on to 2016, we have recently been the lucky recipients of a donated aircraft operating on the FAA register. Once again Southern Aircraft Consultancy made our lives easy, holding our hands throughout the process, and swiftly arranging everything for us to painlessly take ownership. Once again the organisation kindly donated their services. As a charity we strive to work with organisations that support our goal to change lives through the magic of flight, not only that, but making life easier and thus giving us time to concentrate on our core activities not burdensome administration. Southern Aircraft Consultancy has always stood out as an effective organisation that really delivers. What more could we ask for? Thank you SAC."
Thomas Dove, Aircraft Owner
" I had my N-reg airplane registered with Southern Aircraft Consultancy for over 10 years (only recently sold due to loss of medical). SAC made the process of buying, owning and eventually selling my aircraft very straightforward, guiding me at all stages of the purchase, ownership - including things like renewing registration periodically - and the sale. SAC made the fact that I am based in the UK but owned an N-reg aircraft a complete non-issue and entirely effortless. For the whole time, I have found SAC to be consistently highly professional, efficient and courteous: I would thoroughly recommend SAC to anyone who owns or is contemplating owning an N-reg aircraft."
Roger Dadd, Advocate, Guernsey
" Twenty years ago I took delivery of a shipping container, inside which was an American registered Aviat Husky. By coincidence, its assembly in Norfolk was overseen by the late Warren Chmura of Southern Aircraft Consultancy. Over the fifteen years in which I enjoyed that marvellous aeroplane, Southern Aircraft looked after its registration with the FAA on a very friendly, efficient and cost effective basis. So much so that, after parting with the Husky in 2009 , the replacement Piper Archer III ( regarded by my wife as an " up grade " ) was immediately transferred from the G register to the N register with the help and ongoing support of Southern Aircraft. If I had to choose one word to explain my continuing experience with SAC over two decades it would be 'Faultless'."
Clive Edwards, Edwards Brothers Aviation
" I am so impressed and grateful that you stayed with this throughout. Last year I was constantly complaining about third parties letting me down on various services but you are head and shoulders above even the good ones. Thank you very much! "
Mark Hensman, FireStars Aerobatic Team
" I just thought I'd let you know that it has been an absolute pleasure dealing with you and your company over the last year. Not only has your product been pivotal to the existence of our aerobatic team, but also your wonderful professional, proactive and helpful attitude actually made the the whole documentation process a pleasant one! That is definitely a first for me! All the very best. "
Martin Orr, Aircraft Owner
" "Thank you for making my tenure with the (aircraft ownership) group so straightforward and easy to manage; always a friendly voice at the end of the phone and nothing too difficult to deal with straight away - 10 out of 10.""
Gordon Williamson, Pilot
" I must express my thanks and appreciation at your most excellent services, you have been very efficient and tolerant, not an easy task when dealing with a load of testosterone filled pilots on a daily basis, I'm sure. The transfer of the trust and ownership process has been the easiest part of taking ownership and I can easily recommend you to anyone, in fact, I already have. Keep up your brilliant service, it's a rare thing to find these days. "
Peter Patel, Aircraft Owner
" I have been a customer of Southern Aircraft since 2010 when I put my first airplane on the American Register after I got my Instrument Rating. Since then, I have bought another aircraft, the administration of which is also being taken care of by Southern Aircraft. Aircraft ownership is no simple matter, there being many ever-changing rules to follow and pitfalls to be avoided. Throughout these last four years Southern Aircraft have been reliable, prompt and very helpful. I can recommend this firm with full confidence. "
Suzannah Harvey, CEO, Cotswold Airport
" Faith, thank you again for all your assistance and the swift and efficient service."
Christian Hill, Aircraft Owner
" Being completely new to aircraft ownership, I was very concerned about the trust process. The whole team at SAC were very reassuring throughout the process, even when I went to get some independent advice, and when the aircraft I was trying to buy fell through once and took three months to complete. Therefore, I can honestly say to anyone who has 'wobbles' about the 'trust' process with SAC, please be reassured, and I'll be happy to chat to anyone about my experience if that helps."